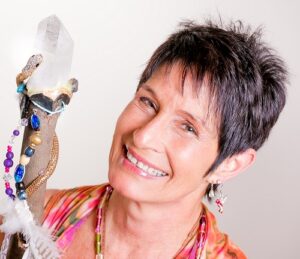 Kathy is a modern-day wise woman whose opinions on health and heart are sought out by people from all walks of life. A retired RN and CNM (Certified Nurse-Midwife) with a Master's Degree in Maternal-Child Health / Nurse-Midwifery, she has served as director of three midwifery practices and two nationally accredited freestanding birth centers; on the Illinois Committee on Nursing; as Nurse-Midwife Legal Consultant for firms in three states; on The Midwife Center Board of Directors; and as Clinical Adjunct Faculty at the University of Illinois at Chicago, University of Pennsylvania, Case Western Reserve University, Medical College of Pennsylvania, Hahnemann, Frontier Nursing Service, and Forbes Regional Hospital Family Practice Residency Program.
Kathy is also a certified Personal Trainer who has been helping people live healthier lives for 4 decades. You may have seen her in Wellbella or Let's Live Magazine as the Corporate Trainer for GNC's Body for Life Challenge or NFL Hall-of-Famer Lynn Swann's 12-week Transformation. As a competitive bodybuilder, she ranked 2nd nationally in Master's Women over 35 lightweight class and her dancing has taken her to appearances on local television stations and Merv Griffin's national TV show, "Dance Fever."
A Master Energy Healer, Kathy has trained in Therapeutic Touch (with originators Dr. Dee Krieger and Dora Kunz), Reiki (Master), Quantum Touch, and completed an apprenticeship and certification in The Pachakuti Mesa Tradition of Cross-Cultural Shamanic Arts. Her company, Ki-Ri (Energy Re-Integration) offers comprehensive programs for individuals – guiding them to attain and maintain total health; and for groups – optimizing work performance, interpersonal dynamics, and productivity. Pilgrimages have taken her to sacred sites in Sedona, Glastonbury, Peru, and India, to study earth energies and work with dowsers, geomancers, shamans, and gurus. She co-founded a Pittsburgh non-profit, SITE NITE (Spiritual, Intuitive and Telepathic Expansion); serves as operations Director of The McCollum Foundation, and has been recognized as one of Pittsburgh's Transformational Spiritual Leaders.
Widowed after 33 years with a true sacred partner, grandmother, and proud mother of two adult daughters, Kathy is no stranger to multi-tasking and balancing home, family and work. She not only talks the talk, but she walks the walk, bringing her own unique blend of energy, humor, and understanding of "woman's way" to all that she does. She loves reading, hiking, weight training, scuba diving, wine, good food, ballroom dancing, and skiing.